Thank you for supporting the "Prepped for School" program!
Click here

to shop on the Foodie Fit website.

Help us reach our goal of
$35,000 for school supplies!
Amount

$30,297.00

Target

$35,000.00

Backers

93
The Backstreet Boys, Richard Harris Law Firm, Foodie Fit and Han-Schneider International Children's Foundation are working together to ensure the children at Robert E. Lake Elementary School in Las Vegas, NV are "Prepped for School" by providing all their school supplies for the 2018-2019 school year.
The Problem
The Nevada School Board faces a $60 million shortfall in their budget. Budget cuts have begun and will, no doubt, continue for the foreseeable future.  While layoffs are inevitable, schools will first cut spending anywhere they can before letting teachers and other administrators go. This means schools will now have less money for supplies, forcing them to rely more on parents for school supplies. For middle class families this is a burden, but for low-income families who already struggle the load is even heavier. With the average backpack and school supplies running over $300, families have to decide between paying their bills and getting their child ready for the school year. With your help, we want to make sure that every student at Robert E. Lake Elementary is Prepped for School.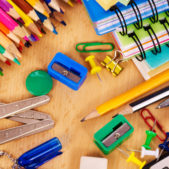 Prepped for School
Our Prepped for School program is dedicated to providing children in need of school supplies with the tools necessary to excel in the classroom
Through sponsorship, we can provide pre-assembled boxes filled with essential school supplies from a list provided by the teachers
Averaging $30 per student, the "Prepped fo School" Boxes will include everything from pencils to scissors to glue sticks and differ from grade to grade, ensuring every student gets exactly what they need to succeed